Seattle's Architecture Showdown The Sweet Sixteen
What is Seattle's best building?
We are asking Seattle's design community to cast votes based solely upon individual matchups. Our voters (that's you!) will be asked to weigh each building on its own merits. At the end of each week we will tally up the votes then report the play-by-play and results right here.

Here's our updated bracket: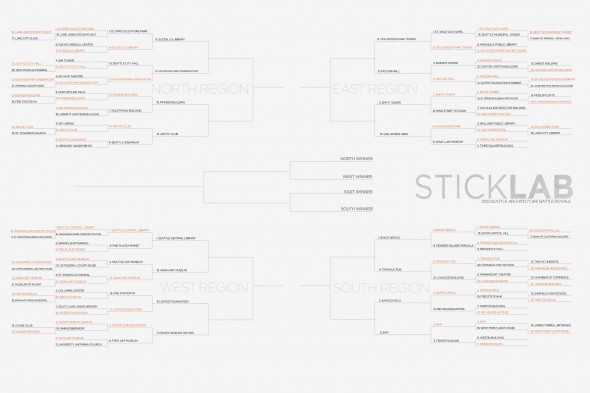 Sweet Sixteen: (April 8 – 10) – Completed
Elite Eight (April 11-13) – VOTING NOW OPEN. CLICK HERE TO VOTE!
Final Four (April 14-17)
Championship (April 18 – 21)
West Region:

Seattle Central Library vs Asian Art Museum
Seattle Central Library (63%)
Asian Art Museum (37%)

Loading ...

Gates Foundation vs Pacific Science Center
Pacific Science Center (53%)
Gates Foundation (47%)

Loading ...
South Region:
Space Needle vs Triangle Hotel & Bar
Space Needle (85%)
Triangle Hotel & Bar (15%)

Loading ...

Safeco Field vs emp
Safeco Field (51%)
emp (49%)

Loading ...
East Region:

Volunteer Park Water Tower vs PACCAR Hall
Volunteer Park Water Tower (60%)
PACCAR Hall (40%)

Loading ...