Day 2 Ginza/Akihabara
On Day 2 we headed for Tokyo station and the financial district. With the exception of Kanji on signs the neighborhood could have been anywhere else in the world. Four and five lane roads cut through the district and after spending a day or two in wards with one lane, minimally trafficked, streets, a return to form transit wise was jarring.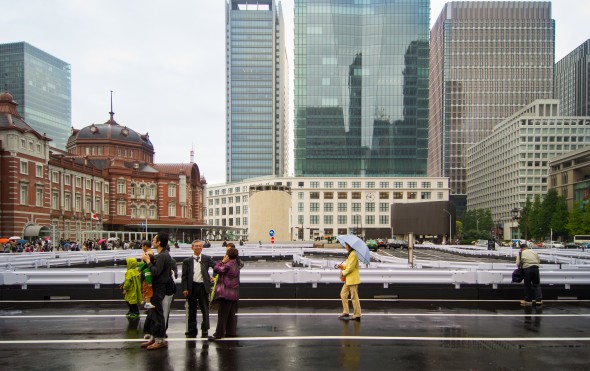 The financial district sits adjacent to the imperial gardens and palace. The grounds are well manicured but the palace and surrounding gardens themselves are walled off by a large moat, however we did manage to see a few cranes.1

1. Yay, birds!
2. More on this in another post. Hermes was already beginning to look a bit worse for wear
We then walked to the Ginza district. To call this the 5th Ave of Tokyo is a bit of a misnomer, it's much larger an opulent than that. Highlights of the neighborhood include the Hermes building2 and a Shigeru Ban building that utilizes the elevator as a full blown architectural element.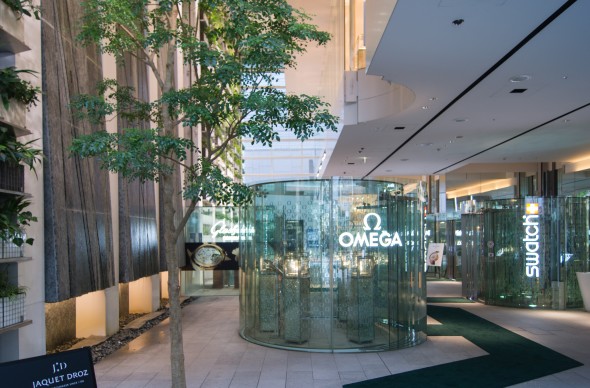 The building is essentially and empty glass shell with various stores on platforms throughout. Visitors meander amongst glass cubes at the base each of these cubes houses a showroom that also functions as an elevator to the actual gallery above. In addition the entire facade features rolling glass doors although effect is hampered by a large black advertisement on the glass.


We toured a few stores including UniQlo's big Ginza flagship which is as advertised and will likely be in a city near you soon as they expand into the US. We then headed off to Akihabara where we spent far too much yen on camera toys (I bought a fairly expensive ND400 filter which is hard to find in Seattle). Our Japanese friend seemed to come down with a cold as we were drinking coffee in a massive electronics store and Hebrides us fair well. At that point the rain really increased and we were forced to (shamefully, for a seattlite) buy umbrellas. Akihabara in the rain has a real dystopian vibe and its easy to see why it was the inspiration for Blade Runner and other scifi environments. Akihabara features a high amount of companion or maid bars and a large number of girls were on the street beckoning us in, which only adds to the whole techno-apocalptic vibe. We wandered a bit before finally being defeated by the torrential downpour and retreating to Sakuradai (our neighborhood) for Chinese food. Not great food but one of the only places with picture menus which we've found to be essential while traveling here.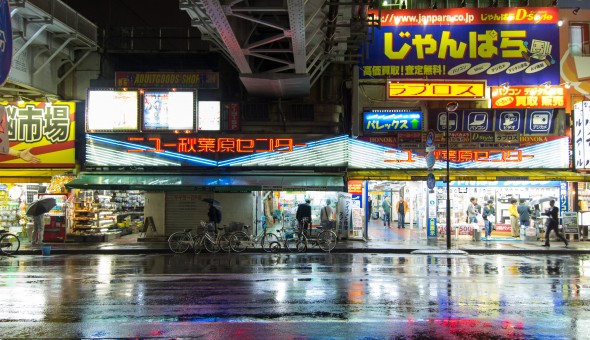 Day 3 Meiji/Kabukicho/ Omotesando
On our own this day we headed to the Meiji Shrine, a large forested area and shrine dedicated to the spirits of Emperor Meiji and the Empress Shōken. Green space (or even open space) is fairly rare in Tokyo so seeing a large park was a bit of a treat. Prior to arriving at the shrine we stumbled across an development called "The Village". This was a glassed-in lot filled with shipping container buildings.3

3. There will likely be more on this in the exhibit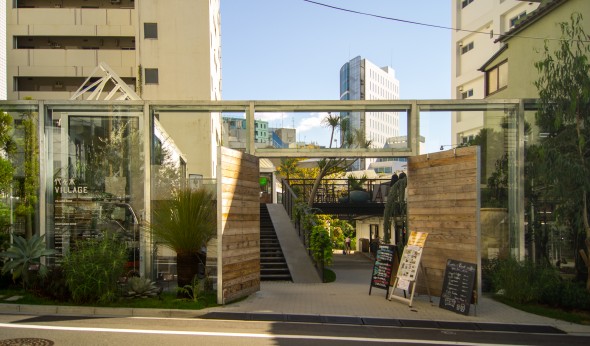 4. Though I would later find the hotbed in Shibuya including pieces by Space Invader and others
After a quick lunch at Meiji (and some soft serve that was squeezed from a cup rather than mixed in a machine) we continued on to Harajuku. As most know, Harajuku is the fashionista neighborhood. 99% of the stores are dedicated to teen girls or to Gyaru. This was one of the more crowded streets we were on. The entire area was flooded with high school students when we visited. Harajuku turned out to be one of the better neighborhood for graffiti, which is quite a bit less prevalent in Japan versus the US.4 Next door to Harajuku is Omotesando which is effectively an outdoor museum for some of the worlds biggest architects.5
5. We'll return to here in greater detail in another post. It's literally a couple square miles of Starchitect porn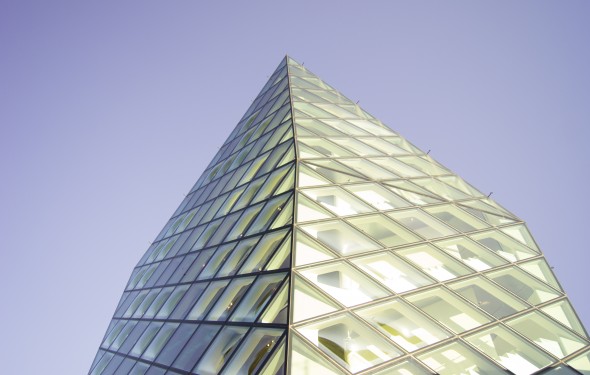 From there we wandered through Aoyama, a more upscale residential area that had a few standout designs including a museum by Kengo Kuma.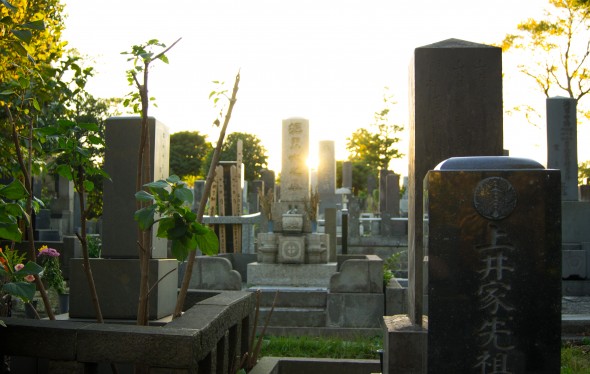 We then walked from there back to Tokyo midtown via a cemetary in Roppongi Hills. Tokyo midtown was a chance to do some quick shopping at the Muji store and recharge batteries at the Starbucks. Tokyo midtown is the location of Design Touch so I took another swing through the architecture book truck that was parked on the plaza.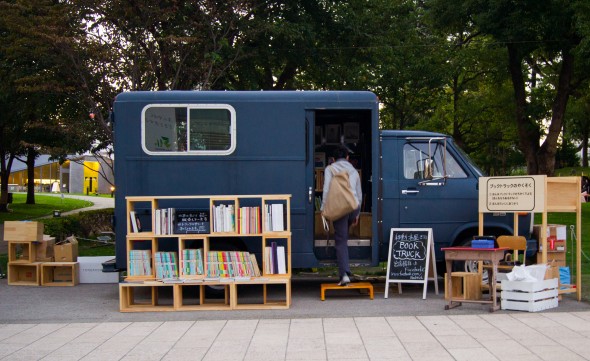 6. At one point Kabukicho was supposedly a hotbed of Yakuza activity, but in recent years the government has ramped up enforcement.
We then set out to find the seediest area we could find. Based on lame internet rumors we wandered around Roppongi first which we were disappointed to find is generally nice. However a quick bit of iPhone research revealed the "real" red light district Kabukicho.6 Kabukicho is located in Shinjuku so we walked from Roppongi using some "excellent" directions from Apple maps. We ended up wandering into the love hotel area first, which, to our non-kanji reading eyes was fairly plush and not at all seedy.7

7. There has been some discussion as to whether it seemed less seedy because it actually was or just because we couldn't understand the signs
We were looking to see how bad Tokyo could actually get so we began selecting streets by which seemed worse than where we were. Using this process we ended up in the Gay nightclub/companion bar area, our local friend told us that the area, although quite large, was still on the downlow due to certain cultural attitudes in Japan. From there, we edged into Kabukicho which got progressively more perverse, although from an architectural (and simple safety standpoint) it always seemed quite safe. The only hassle we had to endure was being propositioned by sidewalk barkers (club bouncers) who would offer all sorts of services the girls within supposedly would provide. Interestingly, for a neighborhood so centered around titillation and sex not a single female was to be found out on the street. It made the entire process that much more disturbing. The whole thing took on an air of indentured servitude, were the girls there of their own free will? In some ways, the process made it feel like they weren't. Having satisfied our curiosity we concluded our night and returned to Sakuradai for our nightly stop at 7/11 for pastries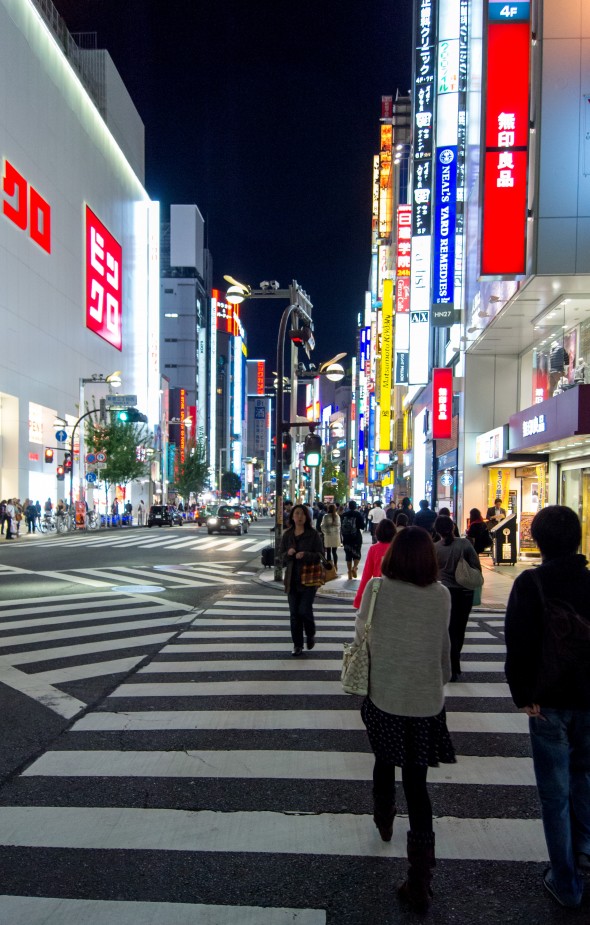 ---
---